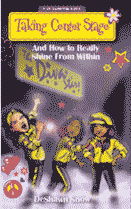 Taking Center Stage And How To Really Shine From Within
When Shawnee and her two friends Rebecca and Nia enter their school's talent show, they are eager to shine like stars and win first place. However, Rebecca's drive to take center stage causes her to act like a diva—both on and off the stage.
Led by her ever-present spiritual guide Nevaeh, Shawnee learns the value of strengthening her character and inner beauty before being promoted and how to really shine from within.